Tackling trust issues: Knowledge hiding, organizational cynicism prevalent within organizations – Professors
Fact Sheet & Media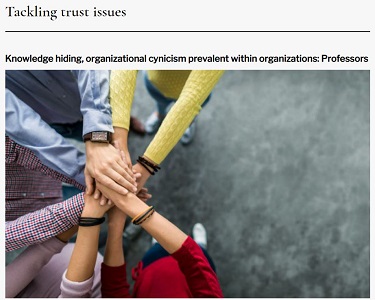 Author(s): Vander Wier, M.
Date: 2018
Resource: Canadian HR Reporter
Centuries-old hierarchical ranking systems within organizations continue to breed trust issues and cynicism amongst employees, according to two Ontario professors.
Speaking at a recent SCNetwork event in Toronto, Catherine Connelly and Kristyn Scott said both knowledge hiding and organizational cynicism remain prevalent in today's workplaces.
The two issues deal with mistrust, said the academics, noting potential remedies lie within the scope of human resources.
Go to article
View all resources
Related Research Areas: Knowledge Hiding & Sharing