Fiche d'info – Les réticences des employeurs à l'égard des handicaps
Fact Sheet & Media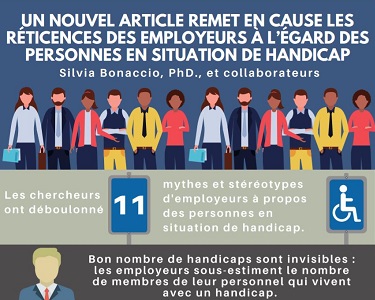 Author(s): Bonaccio, S., Connelly, C. E., Gellatly, I. R., Jetha, A., & Martin Ginis, K. A.
Date: 2020
In their paper, The participation of people with disabilities in the workplace across the employment cycle: Employer concerns and research evidence, Drs. Bonaccio, Connelly, Gellatly, Jetha, and Martin Ginis provide evidence-based responses to 11 specific concerns that employers have about people with disabilities. The authors address concerns throughout the employment cycle, from pre-employment and entry experiences to the final dissolution of the employment relationship.
This French-language info sheet summarizes what they found.
Download
View all resources
Related Research Areas: Disability in the Workplace